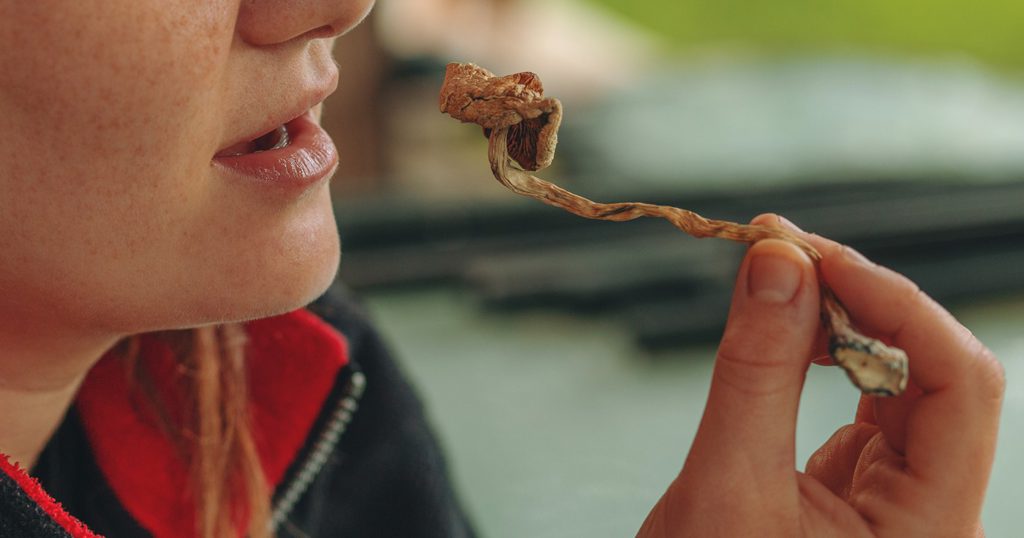 The mind is a powerful thing. When you introduce it to psychedelics it can open up a completely different world to you, one of spiritual nirvana, or another that's full of nightmares. Luckily, bad trips on shrooms are a rare thing, but it's always good to be prepared in case you have one.
What's a bad mushroom trip, and what causes it?
A bad trip can range from experiencing mild anxiety and paranoia to having a full-scale psychedelic crisis where you go through some deeply disturbing emotions. The worst part is a bad trip can last as long as a good one, which is basically six to eight hours depending on the mushroom dosage you've taken. During the trip it feels as though time is standing still, making a bad experience even worse.
The reasons for having a bad trip vary from person to person, but they can usually be traced back to the following things:
Taking higher doses of magic mushrooms. 2 to 3 grams of dried mushrooms is considered a full trip dose. Anything higher than this, and you're courting trouble especially if you don't have enough experience with psychedelics. Here's how much magic mushrooms you should take to get the desired effects.
Being in a negative frame of mind before taking shrooms or during the trip.
Having a setting where there's excessive stimulation.
Mixing psilocybin mushroom with other drugs or alcohol.
Taking psychedelic drugs without a trip sitter to sooth you in case things go south.
Not taking enough water.
Can you avoid a bad trip?
You can minimize the chances of having a bad trip by creating the right set and setting from the start. Try to be positive and relaxed rather than anxious about the psychedelic experience. Make sure your surroundings are familiar and comfortable. Take a dosage of shrooms that your body can handle. A good way to go is to start with small doses and work your way up to a level that feels right for you. Whatever you do, don't take alcohol because this will create panic or even make you violent.
Don't forget to stay hydrated and have some snacks at hand in case you get hungry. You don't want to have a dry mouth or get hungry while tripping because this will only make you grumpy.
How to stop a bad shrooms trip
Sometimes, however well we prepare, things still fail to go according to plan. You may get a distressing phone call in the middle of your trip, or you might see something and get a negative flashback. Whichever the case, you can't completely eliminate surprises that may put a damper on your shrooms experience. Here's what to do when start getting bad vibes during your trip:
Pause and take a deep breath. This will help calm your nerves. If this doesn't work, you can go a step further and try counting your breaths to bring your breathing and heart rate under control. It can do wonders when your nerves begin to fray.
Talk to someone, it can be a trip sitter or a friend. Their gentle voice can help sooth you and make you feel more secure. The fact that they're sober will help you realize that what you're going through isn't real and it will all be over at some point.
Go for a walk. Being in a different place might help lift your mood. However it shouldn't be in a noisy area, or a place with too much traffic.
Find a distraction. Switching your focus to something else when you start feeling anxious can calm your trip. You can turn on some music or look at a picture on the wall. The good thing with hallucinogens is it's not that hard to switch your attention to something else because everything appears interesting while you're high.
Do some light exercise like stretching. This will ease any discomfort you might have as well as decrease your tension and boost your mood. Also try drinking some water.
Try humor. Sometimes not taking things too seriously and having a laugh at yourself about the situation you're in helps lighten the mood. If you can't manage a laugh, try smiling. Even a plastic smile is better than not smiling at all.
Give it time. Sometimes, despite your best efforts, you're not able to shake off the negative emotions of a bad trip. Your best option in such a situation may be to simply ride it out.
Conclusion
Bad trips shouldn't be written off as merely ugly encounters that are best forgotten. As torturous as these experiences might be, they can unearth some unresolved issues that we have, and start a healing process in our lives. Like a near death experience or a painful divorce, surviving the scare of a harrowing shrooms trip can only make us stronger in the end and even teach us something about ourselves that we didn't know. If you've ever had a bad trip consider it a feather on your cap and an important milestone in your psychedelic experience.
Enjoy Magic Mushrooms Delivered Discreetly in Canada
If you're looking to maximize on the incredible benefits that magic mushrooms can provide, Sign up today and enjoy our wide assortment of high quality psychedelic mushroom products delivered to you in a discreet and reliable manner.