We wanted to celebrate the half point of summer by offering a discount on all the top selling classic strains! Thanks to your continued support, we have been able to negotiate better volume pricing from our trusted farm network and will be passing the savings directly to you, our amazing loyal customers!
Starting today, you can enjoy the highest quality Golden Teachers Shrooms, Penis Envy Shrooms, Blue Meanie Shrooms, and Transkei Shrooms for a new lower price!
But much like Canada's short, but beautiful summer, these discounted prices may not last forever, so don't miss it!
Enjoy FREE Expedited Shipping on orders over $99 (lowest minimum free shipping in Canada).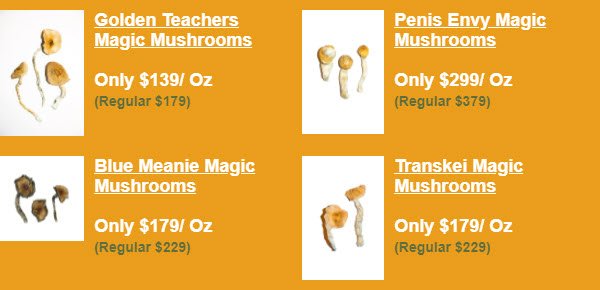 Golden Teachers Magic Mushrooms (From $4.96 – $9 / gram):
1 gram = Sale $9 (Regular $12)
3.5 grams = Sale $29 (Regular $35)
7 grams = Sale $49 (Regular $59)
14 grams = Sale $85 (Regular $99)
28 grams = Sale $139 (Regular $179)
Penis Envy Magic Mushrooms (From $10.67 – $18 / gram):
1 gram = Sale $18 (Regular $21)
3.5 grams = Sale $59 (Regular $69)
7 grams = Sale $99 (Regular $129)
14 grams = Sale $169 (Regular $209)
28 grams = Sale $299 (Regular $379)
Blue Meanie Magic Mushrooms (From $6.39 – $12 / gram):
1 gram = Sale $12 (Regular $15)
3.5 grams = Sale $39 (Regular $45)
7 grams = Sale $69 (Regular $77)
14 grams = Sale $109 (Regular $129)
28 grams = Sale $179 (Regular $229)
Transkei Magic Mushrooms (From $6.39 – $12 / gram):
1 gram = Sale $12 (Regular $15)
3.5 grams = Sale $39 (Regular $45)
7 grams = Sale $69 (Regular $77)
14 grams = Sale $109 (Regular $129)
28 grams = Sale $179 (Regular $229)