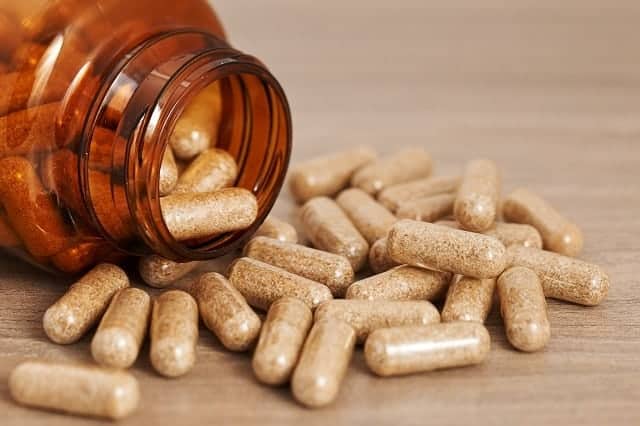 Microdosing is taking a small dose of hallucinogens like psilocybin mushrooms and psilocin to improve a person's mood, influence physical and mental stimulation, and motivate creative thinking. Microdosing was discovered when drug users shared the effects the hallucinogen had on them on the internet; hence medical practitioners were interested in its use. They held online community forums and participated in psychedelic information message boards to share their ideas. They did scientific tests with people who were microdosing to prove if the claims were right. After the tests, it was discovered that the chemical psilocybin bound to receptors for the neurotransmitters serotonin. The receptors involved in the brain areas control reflection, imagination, and the ability to evaluate ideas and feelings.
Most people claimed that when taken in small amounts, it made them feel more productive and focused on their work; hence they become more productive in what they do. Microdosing shrooms was used by people of all ages, from tech industry employees, middle-aged parents with kids to high-ranked corporate executives in renowned companies. It has been noted that taking small doses under a qualified doctor's guidance could cure some psychological issues like anxiety and depression.
How It All Started
Microdosing first appeared in San Francisco almost a decade ago. In 2011 an American psychologist and writer by the name James Fadiman wrote The Psychedelic Explorer's Guide, introducing the word microdosing into popular culture. In the book, he recommended 10 micrograms of LSD every three days as the best dosage to get the right results. Fadiman immediately got a huge following across the US and around the world, prompting researchers to start studying psychedelic drugs.
Not that LSD hadn't been tried before. In the '50s and '60s acid had been used to treat mood disorders like alcoholism and anxiety but was declared illegal in the US in 1968 as horror stories of users overdosing and having bad trips started surfacing. Consequently, research into its clinical use came to a standstill.
Decriminalization of Magic Mushrooms
To this day psychedelics like magic mushrooms remain illegal in most parts of the US, although several cities in the US like Denver and Oakland have moved to legalize them. In Canada, the magic mushrooms remain illegal except for medical purposes and scientific research, although it's probably only a matter of time before its recreational use is decriminalized.
That's because public opinion against soft drugs like cannabis is on the wane. In 2014 Pew Research Center did a survey showing that American attitudes towards drugs were fast-changing and that a new policy on drugs was needed. The survey showed that
The majority of respondents believed that U.S. drug policy needed to focus more on treatment than incarceration.
The number of respondents who thought marijuana should be legalized had gradually increased.
Most of those surveyed thought that mandatory drug sentences were not necessarily a good thing.
Three-quarters of the respondents thought people shouldn't be jailed for possessing small amounts of cannabis.
The bulk of those surveyed believed that alcohol is more harmful than cannabis.
No surprise then that in October 2018 Canada legalized marijuana federally, becoming the first member of G7 states to do so, and was followed by the US. Given this turn of events, it's only logical to expect that magic mushrooms and other beneficial psychedelics will be fully legalized in the not so far future.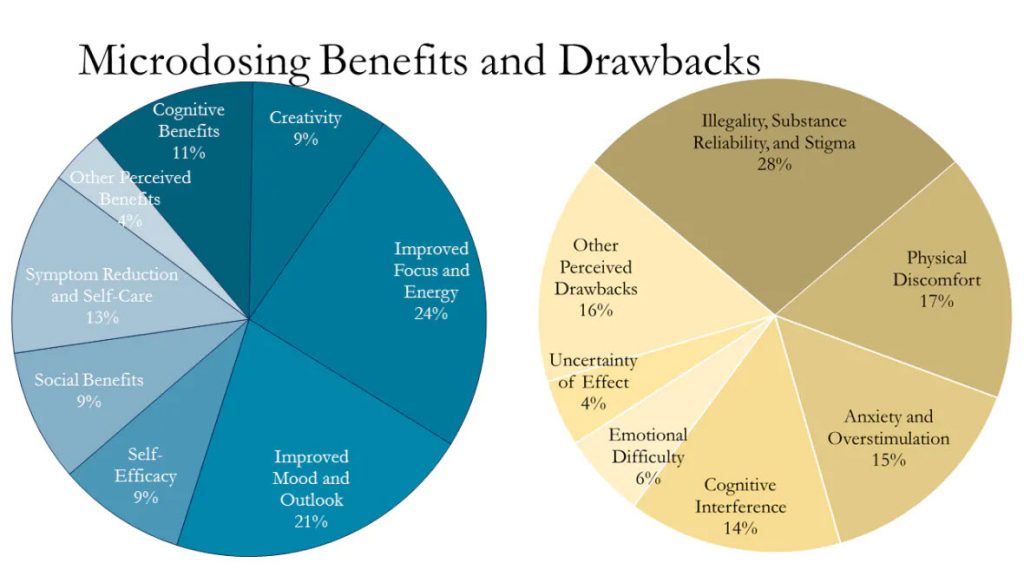 Findings presented by Researchers at the Beyond Psychedelics conference in Prague in June. (Source: The Benefits and Drawbacks of Microdosing Psychedelics)
Research Bodies Playing Catch-up
It wouldn't be too far-fetched to say that research bodies are also going through a renaissance of sorts as far as psychedelics are concerned. There's now more focus on hallucinogenic substances by renowned scientists than ever before with psilocybin leading the way as one of the most talked-about drugs in medical circles. The B.C. Centre on Substance Use, for example, has put together a team of reputable researchers with the intention of making Vancouver an important global player when it comes to researching mind-altering drugs used to treat addiction and mental disorders.
Further afield, Johns Hopkins Medicine armed with $17 million in donations, is set to launch the Center for Psychedelic and Consciousness Research. The center intends to investigate the feasibility of using psychedelic chemicals such as LSD, psilocybin, and ketamine in the management of mental health illnesses especially Alzheimer's, PTSD and anorexia nervosa, as well as opioid addiction and alcohol abuse. This follows the opening of Imperial College London's psychedelic treatment center in the UK in April 2019.
Researchers from Johns Hopkins University have also endorsed the reclassification of psilocybin from a class I drug in the US to pave the way for its use in treating depression.
The Many Health Benefits of Microdosing Mushrooms
Microdosing mushrooms is becoming very popular because people depend on small doses of psychedelics to live normal lives trying to escape reality and the stressful daily hustle. People microdose because it gives them a sense of courage, makes them more empathetic because they can relate with other people freely, the numerous positive effects it has on them, and how it improved their lives. Shrooms is micro-dosed by college students because it helps make their minds more alert; thus, they can study for their exams and think critically. Research has shown that psilocybin have the potential to treat alcohol and tobacco addiction and post-traumatic stress disorder because they make a person feel less worried about what is around them. Psilocybin mushrooms given in large doses provides relief from serious chronic psychiatric conditions because hallucinogens tamper with an individual's senses.
Microdosing improves a person's moods; hence they become positive about life; they are more emotional and can receive spiritual insights. Focus on what a person does is improved as a person concentrates more, is more attentive, is more open-minded, creative, and engages with people easily. Hence, it improves social life. Self-efficacy is improved as it increases confidence, self-care, and helps a person be more aware of living healthy. Hallucinogens make a person more alert and active. Also, it brings out a sense of empathy, connection with other people, and the need to talk to other people. It enhances senses, cardiovascular persistence, quality sleep, and reduces headaches.
Microdosing is becoming very common because it is used by young people who are in college to study for their exams for it makes them more attentive. In contrast, older people use it to feel more relaxed because it gives a person a positive mindset. Also, it makes someone feel confident and boosts their social life. The effects on the body are caused by psilocybin bounding to neurotransmitters serotonin. Serotonin receptors are used in some parts of the brain to control the ability to think and imagine, which makes the mind more alert as it helps people concentrate more, be open-minded and creative.
A person's self-efficacy is improved because they feel more confident in themselves and are aware of their body's value, thus opt to eat healthy foods. Also, it helps people live hygienically as they fear that they may get sick. Magic Mushrooms helps people become more empathetic and emotional; thus, they easily connect with others. Also, it reduces headaches, gives a feeling of relaxation, and improves sleep. Huge doses give relief to severe chronic psychiatric disorders because they affect a person's senses.
How to Microdose Mushrooms?
Dr. Fadiman recommends taking one microdose every 3 days to prevent changes of tolerance over time. Take 1 microdose pill (Ie. Spore Wellness or Neuro Botanicals) each morning with breakfast. Try that for a couple weeks or a month.
If you find that Dr. Fadiman's approach is not providing the desired effects, try the following method. Similar to Dr. Fadiman's approach but instead of every 3 days, microdose every other day. Microdoses are taken 3-4 times per week. Take 1 microdose pill (Ie. Spore Wellness or Neuro Botanicals) each morning with breakfast.
There's also the Workaholic's Approach. This plan is geared towards individuals looking for high performance at work and creative fields. We recommend this approach to be used after having tried Dr. Fadiman's approach. This method requires a daily microdose during the week and weekends are left open for recovery to baseline, in case of changes in effect over time. Take 1 microdose pill (Ie. Spore Wellness or Neuro Botanicals) each morning with breakfast.
Canada's Online Magic Mushrooms Dispensary
Buy high quality Magic Mushrooms from magicmushroomsdispensary.ca. Magic Mushroom Dispensary offers many popular brands of microdose products like Spore Wellness, Neuro Botanicals, Jeanneret Botanical, INfinite Rx, and NOOT. Every purchase comes in discreet and sealed packaging for your privacy. The shipping is fast and delivery is guaranteed.